St. Louis parents are essential in running many of the day-to-day activities as volunteers. Each St. Louis Catholic School family, ELC-8th grade, is required to complete a minimum of 20 volunteer hours per school year. There are many ways for every parent or guardian to get involved regardless of their prior experience and concerns about time commitments. Hours may include all work within our parish community (St. Louis Catholic Church, Early Learning Center, St. Louis Catholic School, Religious Education, Children's Ministries, Youth Ministries, Music Ministry, etc.). Volunteer requirements must be met before working with children.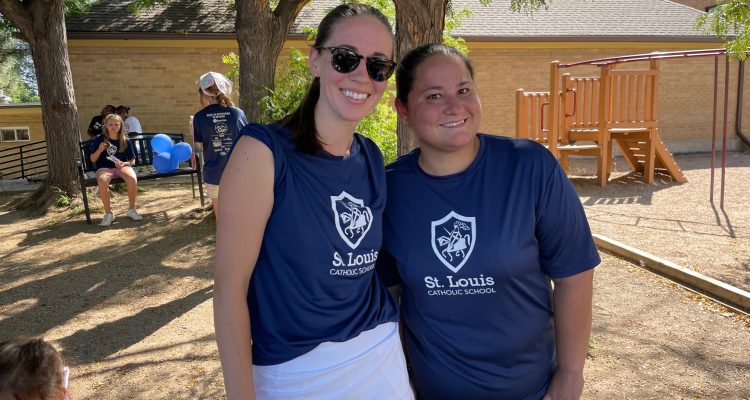 In conjunction with volunteering your time, the Archdiocese of Denver requires all volunteers to follow specific requirements prior to your volunteering. All new volunteers must create a volunteer account at Virtus Online before completing the following requirements.  The instructions are attached.  Follow the steps to set up your account.  Please help us keep in compliance by completing each of the following
Code of Conduct Policy must be read and signed
All St. Louis volunteers MUST read the Denver Archdiocese's Code of Conduct Policy. The acknowledgement form must be signed electronically during the online registration with Virtus.
Volunteer Worker Hold Harmless Agreement must be read and signed every year
Every volunteer MUST fill out, sign and return a Volunteer Worker Hold Harmless Agreement. Please print, sign and return to the school office.  Additional copies are available at the front office. 
A Criminal Background Check must be completed and renewed every five years
All St. Louis Catholic School teachers, parents, volunteers, staff members, custodians, substitute teachers, athletic coaches, (persons who work directly or indirectly with youth) etc., MUST have a background check completed before working with children.  If this is needed, an email address is required in order for the background check form to be sent to the volunteer directly. You will receive an email from Fastrax with the background check attached. 
Safe Environment Training Class is required every five years
Any person who will have contact with children of any Catholic school/parish in the Archdiocese of Denver is required to take the Archdiocese of Denver Safe Environment Training.  You will be prompted to sign up for the Safe Environment class when you set up your Virtus account.  If you attended this class more than 5 years ago, you will be required to complete an online refresher course through Virtus.
ATTENTION – DRIVERS:  If you volunteer to drive on a field trip, you must sign a Volunteer Driver Agreement and bring your driver's license and proof of current insurance to the school to be updated every year.  In addition, an online defensive driving course must be completed.