For more information on tuition rates and school policies, go to our Parent tab.
Click on Contact to schedule a tour or for more information!
---
Home of the CRUSADERS! Our Actions Speak Louder than Words! 
Kids in motion. Minds in motion. Spirits in motion. St. Louis is a place of formation for children from preschool through the eighth grade, animated by our active community, and guided by the grace of God.
Surely the Presence of the Lord is in this Place.

I can feel His mighty power and His grace.
I can hear the brush of angels wings.
I see glory on each face.
Surely the Presence of the Lord is in this Place.

"Surely the Presence of the Lord is in this Place" written by Lanny Wolfe and inspired by Genesis 28:16
February Dove Awards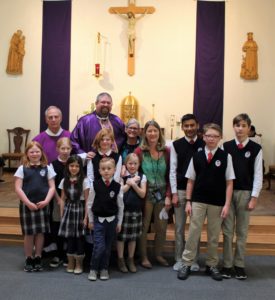 Kindergarten, Tucker Salyer: Tucker lives his faith in a very unassuming way.  He is always kind and helpful with his classmates and staff.  I can count on him to do the right thing even when no one is watching—he has integrity.  I am so grateful that Tucker returned to St. Louis. He is an amazing kiddo!
First Grade, McKenzie Jones: McKenzie is the definition of a peacemaker: friendly, cooperative, trustworthy, easy-going, and empathetic. She doesn't like it when people are not getting along and is the first one to help ease the situation. Her main goal is to have peace with everyone. She is so aware of the needs of others that she puts theirs before hers. She'll clean up the classroom without being asked.  She's ready to help pick up someone else's pencil box before it even hits the floor. She makes sure that everyone at her table is on the right page, knows what they should be doing, and has their desks tidy. In all of this, she remains kind and compassionate. You'll never see McKenzie snap at anyone or get frustrated. She helps because she wants to and nothing else. Her friends know this about her because when I asked a few of my students who they'd recommend for the next Dove Award, McKenzie was their top choice. I'm so blessed to have McKenzie as a student. She truly lives her daily life the way Jesus would want all of us to. She certainly is a blessing!
Second grade, Izabella Brown: Izabella is a great addition to our second grade.  She jumped right in since starting the middle of January.  Izabella is a kind and loving student. She makes sure that everyone is taken care of. I love seeing her smiling face everyday.
Third Grade, Clara Meschler: Clara is a sharp young lady. She is very eager to learn and has a lot of knowledge to share with our class. She will also go home and do some additional research on specific topics of interest that she often shares with me and a few others. She is also very kind and patient, especially with students who don't always find themselves with a partner. Clara often quietly and courteously offers to partner with them or offers help when she sees a need. The best part is that she does it without much disruption or by drawing any attention to herself or the deed. She is humble, helpful and carries herself with a great deal of dignity. Clara also shows her deep commitment to her faith by honoring others through her actions, including volunteering when there is a need, like the choir on Sunday evenings. I also watch her push herself for improvement and to take chances. She is a real peaceful dove in our classroom who adds to the peace and love within our class. It is a pleasure to have Clara in our school and parish!
Fourth Grade, Zadie McGee: Zadie is a pleasure to have in class. She comes in every morning with a smile and usually a story.  She lightens up a room. She is a good, solid student who takes her work seriously. She is always willing to lend a helping hand to everyone.  She will always pick something up off the floor even if it isn't hers and throws it away. She is someone I can count on. She always has a positive attitude toward anything she does. Zadie gets along with everyone.  She is a good role model. I am so pleased that she is getting baptized into our faith.
Fifth Grade, Danikka Nielsen: Danikka has really made huge progress since the beginning of the year.  She has been working so hard to stay caught up with work and to get help when she needs it.  I'm so proud of her dedication and persistence! Danikka is also a very kind person. She truly wants what is best for others, and she works hard to make sure people are treated fairly.  When she is upset about something, Danikka is willing to talk about it with others, and she shares her feelings. Danikka is definitely a peacemaker, and I am very proud of her!
Sixth Grade, Mason Dedman: Mason has matured greatly over the past few months.  He is a hard worker and even when things are hard he perseveres.  We see the development of leadership potential. He is empathetic and can recognize when students need a little help and understanding. Mason listens attentively to the responses of others and remains an active listener throughout the school day.
Seventh Grade, William Gallegos : William is an extremely compassionate young man.  He never has an unkind word to say and is willing to step up help not only in class but at Mass as well. He  is mindful of others' needs, and we love the twinkle in his eyes and the smirk on his face. He is a pleasure to have in class. William is well-liked by his classmates.  He is a pleasure to have in class and brightens the whole atmosphere. 
Eighth Grade, Brian Lowrimore : Brian came to St. Louis in the middle of the year.  It is not easy to change schools mid-year yet Brian seemed to accomplish this with ease. He is friendly and accepting of all students. Brian is accountable and responsible. He makes smart decisions, admits mistakes and listens to opportunities to improve. Brian also has a positive attitude with his classmates in group projects and activities, and both takes and gives suggestions and directions effectively. He is an enthusiastic member of the class and shows willingness to learn. Brian definitely has fit right in with our middle school, and we are glad he is here with us.