Together, let us begin every year with a commitment to partnership as we support one another in helping your child become the best person he/she is capable of becoming.
St. Louis Catholic Parish & School
St. Louis Catholic Church received their first resident pastor, Fr. Cyril Rettger, in 1899. In 1903, Fr. Rettger initiated plans for a parochial school. Twelve lots were purchased with construction beginning in 1905. It was then that the first teachers, the Benedictine Sisters of Pennsylvania arrived. Classes began in the church building while the school was finished. Years passed and in 1985, the preschool was added, and in 1995, a three story addition to the current church and school building began. Additions included upper and lower floor classrooms and Benedict Hall for meetings, luncheons, and Mass overflow. In 1999, 23 acres were purchased on the corner of 96th and Dillon Road. The ELC moved to 841 Grant Ave. the summer of 2014. The playground renovation project was completed summer 2016. Student bathrooms were remodeled during the summer of 2019. Perhaps someday, with God's help, we will begin building a new church and school.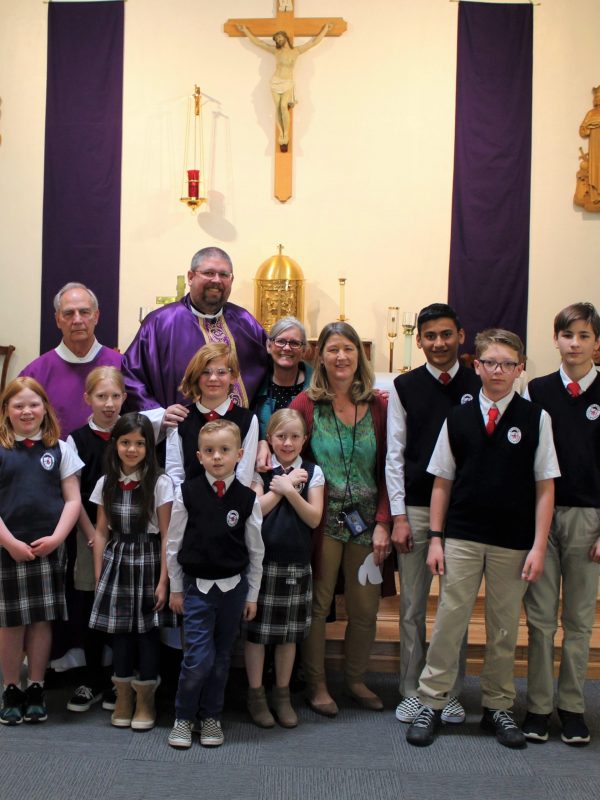 Among the most important reasons people choose St. Louis school is our administration and faculty. Children benefit from decades of experience, professionally licensed teachers, with a strong professional development program to keep our staff at the forefront of teaching. Our teachers work together as a team to provide a rigorous academic program and use the best instructional strategies. We monitor student progress and do what it takes to ensure that all students reach their greatest potential. Above all, our staff genuinely invests in the complete formation of each child.
Email: FatherTim@stlp.org
303-666-6401 ext 410

Father Tim originally comes to us from Southern Nevada. He grew up with his six brothers and sisters in the small town of Alamo. In the summer of 1990 his family moved to Grand Junction, Colorado where he attended all four years of high school at Grand Junction High School. After high school he went to university where he earned a Bachelor of Science in Chemical Engineering from Colorado State University. The year after graduation from CSU he entered the seminary for the Archdiocese of Denver and spent the next eight years at Saint John Vianney Theological Seminary studying for the priesthood where he earned a Bachelor in Philosophy, a Bachelor in Theology and a Master of Divinity. He joined the St. Louis family in 2013.
Email: alicata@stlp.org
303-666-6220 ext. 300


Email:  lwelty@stlp.org
303.666.6220, ext. 200

Hello.  My name is Lori Welty.  I am the office manager at St. Louis School.  I have been a parishioner at St. Louis for 18 years and an employee of St. Louis in various positions for over ten years.  Prior to working at St. Louis, I held positions in administration, teaching and sales. I am originally from Chicago and have lived in Colorado for 25 years.  What I enjoy most about St. Louis is the sense of community and caring.  St. Louis has truly become my home away from home. I have three beautiful daughters all of which are St. Louis alumni. I enjoy cooking, hiking, reading, traveling and spending time with my family.
Assurance Statement of compliance with the purposes of Title IX Education Act 
The Catholic schools of the Archdiocese, under the jurisdiction of the Archbishop, and at the direction of the Superintendent, attest that none of the Catholic schools discriminates on the basis of sex in its admission policies, its treatment of students or its employment practices. 
Notice of Student Non-Discrimination Policy 
The Catholic schools of the Archdiocese of Denver, under the jurisdiction of Archbishop Samuel J. Aquila, S.T.L. and at the direction of the Superintendent, state that all of their Catholic schools admit students of any race, color, national or ethnic origin to all the rights, privileges, programs and activities generally accorded or made available to students at the schools. Furthermore, Archdiocesan schools admit disabled students in accord with the policy on Admissions in the Archdiocese of Denver Catholic Schools Administrator's Manual. These schools do not discriminate on the basis of race, age, disability, color, and national or ethnic origin in the administration of their educational policies, employment practices, scholarship and loan programs, athletic or other school-administered programs.