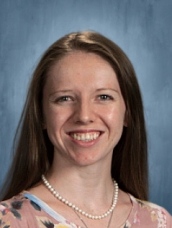 Madie Dark, Art & Technology
"This is my 4th year teaching at Saint Louis and I absolutely love every day. I am a graduate from Mullen High School and I have a Bachelors of Fine Arts degree with an emphasis in photography and a minor in Art History from the University of Colorado at Denver. I love all things art and technology and I strive to share my passion with our students. My Catholic faith is the core of who I am and it is a big part of what I bring to my teaching every day. 
Saint Louis; Pray for us. – Live Jesus in our hearts; Forever."
Art Philosophy, Archdiocese of Denver
Catholic school education seeks to enhance the student's love of God. The psalmist sings of God's creative power: "How manifold are your works, O Lord! In wisdom you have wrought them all – the earth is full of your creation." (Psalm 104:24) The Catechism of the Catholic Church says, "Even before revealing himself to man in words of truth, God reveals himself to him through the universal language of creation, the work of his Word, of his wisdom: the order and harmony of the cosmos – which both the child and the scientist discover…" (2500). Instruction in art encourages students to deepen their appreciation of God's gifts to the world and to develop technical and artistic skills to express their own gifts and talents. It provides students with an opportunity for personal expression, awareness of their heritage, and appreciation for the role art plays in society. Art allows a student to touch that which is uniquely human. "Indeed, art is a distinctly human form of expression; beyond the search for the necessities of life which is common to all living creatures, art is a freely given superabundance of the human being's inner riches" (Catechism of the Catholic Church, 2501). Instruction in art also supports and enriches student learning in other academic subjects. "The arts humanize the curriculum while affirming the interconnectedness of all forms of knowing. They are a powerful means to improve general education" (Charles Fowler, Educational Leadership, Vol. 52, November 1994). "Knowing and practicing the arts disciplines are fundamental to the healthy development of children's minds and spirits. That is why, in any civilization—ours included—the arts are inseparable from the very meaning of the term 'education'" (National Standards for Arts Education). The use of art and of a student's artistic talents in other areas of the curriculum touches a learning style that might not ordinarily be used in reading or math. It excites a part of the brain that may lie dormant at other time of the day. It provides the opportunity for alternative problem solving, creative expression, and non‐verbal response. Because the Catholic school educates the total child, art should not be seen as an "extra" or as something that is dispensable in the school experience, but as a subject integral to the mission of Catholic school education.
Technology 
The Catholic schools in the Archdiocese of Denver envision that Catholic values and moral decision-making will shape and extend the ethical and responsible use of technology. To give support to and update the direction of this vision, instructors in information technology from schools throughout the Archdiocese gather continually revise and update the Technology Strategic Plan. Guidelines include specific student goals related to technology. Student competencies include specific skills associated with the use of information technology.
My technology program concentrates on keyboarding, word processing, spreadsheets, presentation skills, and information literacy.  Students in grades 5-8 will utilize classroom lessons for the content to reinforce the subject matter.  Google Docs and research projects are emphasized in 5th-8th grade.
Learn more about the Archdiocese of Denver, Office of Catholic Schools Curricula here.