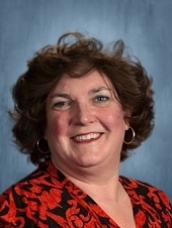 Debbie DiPetrillo, 1st/2nd Grade Teacher
Email: ddipetrilllo@stlp.org Phone: 303-666-6220 X 201
Hi, my name is Deborah Di Petrillo (Mrs. D). I have had the pleasure of working in the Archdiocese of Denver for the past 30 years. I was a Kindergarten teacher for 20 years and Second grade for 10years.
I love to see the children's light bulbs come on when they have learned something new.
I am a widow with three children. Gerald (25), Rachel (20), and Sylvia (17). My children have all gone to Holy Family High School with my youngest graduating this year. There will be a new member in our family as Alexandrea will be joining us as Gerald's wife in October (keeping fingers crossed the date doesn't change again).
I love working at St. Louis. It is so much part of my family. I hope you enjoy it also.
Blessings for a great year.
1st Grade Curriculum
Reading/Literature/Language Arts: McGraw/Hill "Wonders"
Math: Math in Focus (Singapore)
Music: Archdiocese of Denver Curriculum
Physical Education: Archdiocese of Denver Curriculum
Computer Education: Archdiocese of Denver Technology Plan
Art: Archdiocese of Denver Art Curriculum
Science: MacMillian-McGraw-Hill
Religion: Ignatius Press (Faith and Life Series)
Spanish: Spanish Elementary by Cynthia Downs
Social Studies: Houghton Mifflin
2nd Grade Curriculum
Reading/Literature/Language Arts: McGraw/Hill "Wonders"
Math: Math in Focus (Singapore)
Music: Archdiocese of Denver Curriculum
Physical Education: Archdiocese of Denver Curriculum
Computer Education: Archdiocese of Denver Technology Plan
Art: Archdiocese of Denver Art Curriculum
Science: MacMillian-McGraw-Hill
Religion: Ignatius Press (Faith and Life Series)
Spanish: Spanish Elementary by Cynthia Downs
Social Studies: Houghton Mifflin