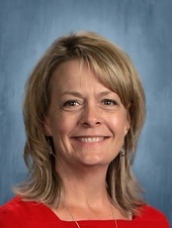 Elizabeth Brison, Middle School Science and Literature 6th Grade Homeroom
I was born into a military family in Duluth, Minnesota. We lived in several other states including Illinois, New York, Alaska with my dad retiring to Barbeau, Michigan when I was 12. I lived in Michigan until I came to a wedding in Colorado and I knew where I wanted to live my life enjoying the beauty, weather and the warmth of the people here. My husband and I live in Lafayette, Colorado and have been blessed with two grown young men Max and Sam. We are active members of St. Louis Parish working with kids of all ages and helping light the fire of faith within them. Virtue, happiness and the common good are a choice and the natural path for those seeking their purpose in life, such as myself.
I have a diverse background in education and have been teaching for many years. I graduated from Madonna University with two degrees and loved that we prayed before each start of class. I also have a Master's in Education along with a PhD, ABD in Special Education.This year I will be teaching middle school Science and Literature, two of my favorite subjects. I know that being a teacher is a gift from God, since I look forward to meeting my new homeroom students each year. I always learn so much and try with all my heart to be the best teacher possible for my students to guide them to become the best versions of themselves.